Taste of India - Authentic Indian Cuisine
SERVING CERTIFIED HALAL MEATS, Vegetable, Chicken, Lamb, Biryani, Chef's Specials & Seafood Specials. Special prepared Dishes Straight from the Clay Oven. Taste of India uses only the Freshest and Finest Authentic Ingredients , prepared in ways that only millenia of culinary knowledge could offer. Lunch Buffet 7 days a week, A la carte Menu available for Lunch and Dinner. A Variety of Wine and Beer to Select.. Restaurant Located in the same Complex as Methodist Hospitals, and Conveniently Located Across the Street from Radisson Hotel, Radisson Star Plaza and Next Door to Hooters. Open for Lunch Mon-Fri 11am to 2:30pm and 11am to 3pm Sat ,12pm to 3pm Sun. Dinner from 5pm to 10pm Mon to Fri, Sat 5pm to 10:30pm, Sun 5pm to 9:30pm . Carry Out and Delivery Orders Available. We Cater for Large & Small Parties as well as Outdoor Parties also. Call for Catering & Special Events, Contact Jasbir Singh At ( 219) 218- 2042 or (219) 755- 4634. Gift Certificates Available. FREE WIFI.

phone (219)755-4634 fax (219)755-4638
761 E 81st Ave.
Merrillville, IN 46410
Monday-Friday: 11:00 am - 10:00 pm
Saturday: 11:00 am - 10:30 pm
Sunday: 12:00 pm - 9:30 pm
posted by jasbir on Dec 28th, 2012 at 11:20 pm

We offer a selection of traditional & regional Indian cuisines that are carefully prepared and presented by our experienced chef.
Indian cuisine is among the most varied and enjoyable of all ethnic foods because of terrain, climate and the infusion of people of many different religions into Indian culture over thousands of years.
Taste of India is pleased to present a wide selection of Authentic Indian Cuisine made from the finest and freshest ingredients. Our menu offers a welcome change from the ordinary that is not only pleasing to the palate, but a healthful alternative as well, owing largely to the use of a variety of vegetables and leaner meats.
Our mission is to serve superior quality of Indian food at an atmosphere that is welcoming and friendly like family.
.
posted by jasbir on Oct 14th, 2012 at 11:21 am

Lunch Buffet served daily from Monday to Friday 11:00 To 2:30 and Saturday from 11:00 To 3:00 Sunday 12:00 to 3:00. "Most Indian food is based on Ayurvedic principles, and is made to support the body nutritionally and spiritually. It includes six basic tastes: sweet, sour, salty, bitter, pungent and astringent. Rather than being based on calories and fat grams. Ayurvedic tradition looks at a food's properties, its assimilation in the body, water levels, salt levels and characteristics of the individual person eating the food. Much of Indian cuisine revolves around health-promoting herbs, spices and vegetables." So come on in and give your body a healthy treat and don't forget to print out and bring in your Coupon for savings.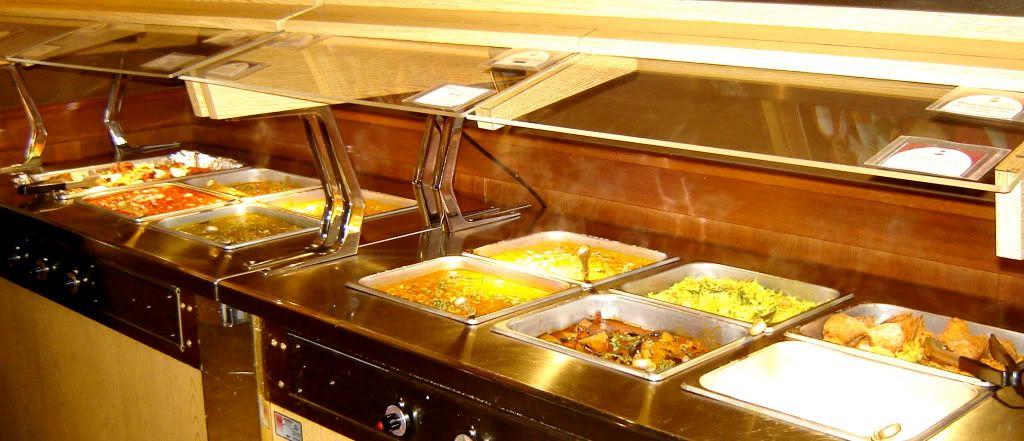 .
posted by jasbir on Jul 6th, 2010 at 8:57 am

SUMMER WHITE WINE FEATURE
PINOT GRIGIO, MASO CANALI (Italy)
Crisp with orange, tangerine and almond aromas. Marries beautifully with our Mixed Seafood Grill and Lamb Korma. $6.50 Glass / $28.00 Bottle
ALBARINO, MARTIN CODAX (Spain)
Elegant with Peach and Melon aromas. Marries beautifully with our Fish Tikka and Chicken Tikka Masala. $6.50 Glass / $28.00 Bottle
SAUVIGNON BLANC, WHITEHAVEN (New Zealand)
Bright Pink Grapefruit and herb aromas. Marries beautifully with our Tandoori Chicken and Lamb. $6.50 Glass / $28.00 Bottle
RIESLING, POLKA DOT (Germany)
Semi sweet with apple and honey aromas. Marries beautifully with our Goan Fish or Shrimp Curry and Lamb or Chicken Vindalo. $5.00 Glass / $18.00 Bottle
HOUSE SELECTIONS By COPPER RIDGE
WHITE ZINFANDEL, CHARDONNAY, MERLOT, CABERNET SAUVIGNON
$4.00 Glass / $15.00 Bottle
WHITE / SPARKING WINES
GIONELLI ASTI SPUMANTE, PIEDMONT, ITALY
Fizzy, sweet, and fresh. Flavors of peaches and apricots $5.00 Glass / $24.00 Bottle
ECCO DOMANI PINOT GRIGIO, TRE VENEZIE, ITALY
Crisp with flavors or citrus and almond $5.00 Glass / $18.00 Bottle
MASO CANALI PINOT GRIGIO, TRENTINO, ITALY
Peach, tangerine, lemon zest, with a medium body $34.00 Bottle
OVERSTONE SAUVIGNON BLANC, MARLBOROUGH, NEW ZEALAND
Pink grapefruit, herbs, and ultra crisp $27.00 Bottle
MULLER RIESLING, RHEINHESSEN, GERMANY
Crisp apple, limes, and passion fruit with a hint of honey $4.00 Glass / $15.00 Bottle
PETIRROJO CHARDONNAY, COLCHAGUA Valley, CHILE
Mango, pineapple, and a creamy finish $24.00 Bottle
WILLIAM HILL CHARDONNAY, CENTRAL COAST
Tropical fruit and creamy with a hint of vanilla $6.00 Glass / $22.00 Bottle
RED WINES
ST. GABRIEL SWEET RED, RHEINHESSEN, GERMANY
Luscious flavors of raspberry and plum $5.00 Glass / $18.00 Bottle
STEIN 1 SWEET RED, GERMANY
Sweet and bright fruit flavors $6.00 Glass / $22.00 Bottle
Le GRAND PINOT NOIR, LANGUEDOC, FRANCE
Cherry, currant, vanilla, and spice $22.00 Bottle
CONQUISTA MALBEC, MENDOZA, ARGENTINA
Blackberries, blueberries, and hint of mocha and spice $20.00 Bottle
McWILLIAMS SHIRAZ, SOUTHEASTERN AUSTRALIA
Dark Black fruit aromas with black pepper spice $6.00 Glass / $22.00 Bottle
LOUIS M. MARTINI CABERNET SAUVIGNON, SONOMA
Taste layers of dark fruit with coffee and vanilla $27.00 Bottle

KING FISHER - Bottle Beer
$4.50 small bottle / $7.25 large bottle
$7.50
TAJ - Bottle Beer
$7.50
FLYING HORSE - Bottle Beer
$2.50
MILLER LITE - Bottle Beer
$2.50
BUD LITE - Bottle Beer
$2.50
SAMUEL ADAMS - Bottle Beer
$2.50
COORS LIGHT - Bottle Beer
$2.50
MGD - Bottle Beer
$3.25
HEINEKEN - Bottle Beer
$3.25
LEINEN PIUGELS - Bottle Beer
$3.25
CORONA - Bottle Beer

blog tags:
Beer
,
Wine
,
Glass
,
Bottle
,
Merrillville
,
Lake
,
Porter
,
County
,
Northwest
,
Indiana
,
Indian Food
,
Dine
,
Dinning
.
posted by jasbir on Feb 25th, 2010 at 11:44 am

Taste of India is proud to serve Authentic Indian Food with a wide assortment of specialty dishes. We have a lunch buffet that will amaze you.
.
posted by jasbir on Nov 17th, 2009 at 2:41 pm

Why cook when you can get it delivered. Taste of India offers the freshest food made from traditional homemade recipes and choices spices, utilizing the finest hand picked ingredients found both here and abroad. Eat Healthy! Delivery now available 7 days a week. Minimum food purchase for delivery is $25, delivery fee is $3 and up.
blog tags:
Catering
,
Lunch Buffet
,
Dine in Dinners
,
Certified Halal Meats
,
Restaurant
,
Indian Food
,
Indo Chineese
,
BBQ
,
Vegetable Specialties
,
CarryOut
,
Deliver
,
Lamb Specials
,
Chicken Specials
,
Beer
,
Wine
,
Biryani
,
ChefsSpecials
,
Outdoor Parties
,
Gift Certificates
,
IndianCuisine
.
Displaying Blog Posts 1 - 5 of 5