St. Sava Serbian Orthodox Church
Serbian Orthodox Church, Merrillville, IN, was established in 1914 in Gary, IN. Divine Liturgy Sundays 10am, Fr. Marko Matic officiating. Liturgical responses by Karageorge Choir. Sunday School starts after Holy Communion (around 11:15) until 12:15. Serbian School will be incorporated into Sunday School. Vespers served Tuesdays and Saturdays at 6:00 p.m. Join us, everyone welcome! Folklore dance group and choir always accepting new members. Attend Sunday Luncheons after Liturgy, hosted by families or organizations, serving delicious homemade food and desserts.
South Wing SOCIAL CENTER NOW AVAILABLE for hosting social events, newly renovated and tastefully decorated. Showers, graduation parties, business meetings, Skup Svatova, wedding receptions, baptisms, birthdays, and retirements can all be accommodated. For more info, call (219)736-9191.

phone (219)736-9191
9191 Mississippi St.
Merrillville, IN 46410
Monday-Friday: 9:00 am - 3:00 pm
Saturday: closed
Sunday: 9:30 am - 12:30 pm
posted by dorothyp on Mar 23rd, 2010 at 10:51 pm

Art Jibilian shown in his Navy uniform in 1942 died Sunday after battling leukemia. Jibilian, 86, was affectionately called "Jibby".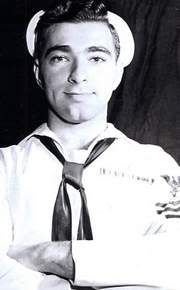 Jibilian, a radio operator, was nominated for the military's highest honor for his actions during five months in 1944, helping to rescue hundreds of people from a German-occupied area in Serbia.
Jibilian was one of three Office of Strategic Services agents who parachuted into central Serbia in August 1944 to rescue what he thought was 50 downed airmen.
"We didn't find 50," Jibilian would later say. "We found 250."
Over the next six months, Jibilian constructed a landing strip and coordinated evacuation flights and medical help at night as the people in the Serbian village housed and protected the soldiers under the leadership of Drazha Mihailovich -- leader of the Royal Yugoslav Army.
His daughter, Debi Jibilian, said the family plans an event Saturday in Fremont, though funeral plans have not been set.
"It's going to be a celebration of his life," Debi Jibilian said. "This is his home, and this is where it'll be."
Debi said her father lived for 18 months after doctors said he had two weeks left.
Instead of battling for his life, he fought to clear the name of a man who helped save him and his fellow colleagues in the mission -- Drazha Mihailovich. Jibilian revisited Serbia on several occasions, speaking to crowds and praising Mihailovich, who had been labeled as a "collaborator" with Nazis and was executed.
The mission was documented in Gregory A. Freeman's 2007 book, "The Forgotten 500."
"With the passing of Arthur Jibilian, our country has lost a true American hero," Freeman wrote in a statement to The News-Messenger. "Arthur's brave work in rescuing downed American airmen in World War II must never be forgotten, and I am honored to have known him.
"He was the quintessential American hero -- humble, modest, quietly proud, but ferocious in seeking justice."
Jibilian was set to received the Golden Deeds Award on April 17 from the Exchange Club of Fremont.
He received a congressional honor for his duty in 2008 from U.S. Rep. Bob Latta. Latta on Monday gave a speech on the floor of Congress to honor Jibilian.
"They have yet to receive a military/government recognition for their actions," Latta said. "I will continue to work on this legislation to honor this exceptional American with the recognition he deserves."
Freeman said "The Forgotten 500" has been optioned for a motion picture by Dana Maksimovich, who co-produced Oscar winner "Crash" and "In the Valley of Elah."
"We're excited about the prospects of seeing 'The Forgotten 500,' on the big screen," Freeman said.
Jibilian also was a strong supporter of making a major film about the WWII story.
****From "The News-Messenger" of Freemont, Ohio. Thanks to Nadine Djordjevic and Mileva Savich for sharing this article.
.
posted by dorothyp on Jul 2nd, 2009 at 11:16 pm

Both Mladen and his brother Milo Sekulovich are listed among the names of veterans honored 62 years ago when the monument was first dedicated at 1300 Connecticut Street. Surely Mladen and his parents were in attendance for that event. Now the monument sits appropriately on Karl Malden Drive; how ironic! Perhaps just as ironic, Nikola Sever is listed below Mladen Sekulovich. Nikola's son Nicky Joe is the man responsible for just recently moving and renovationg the monument...........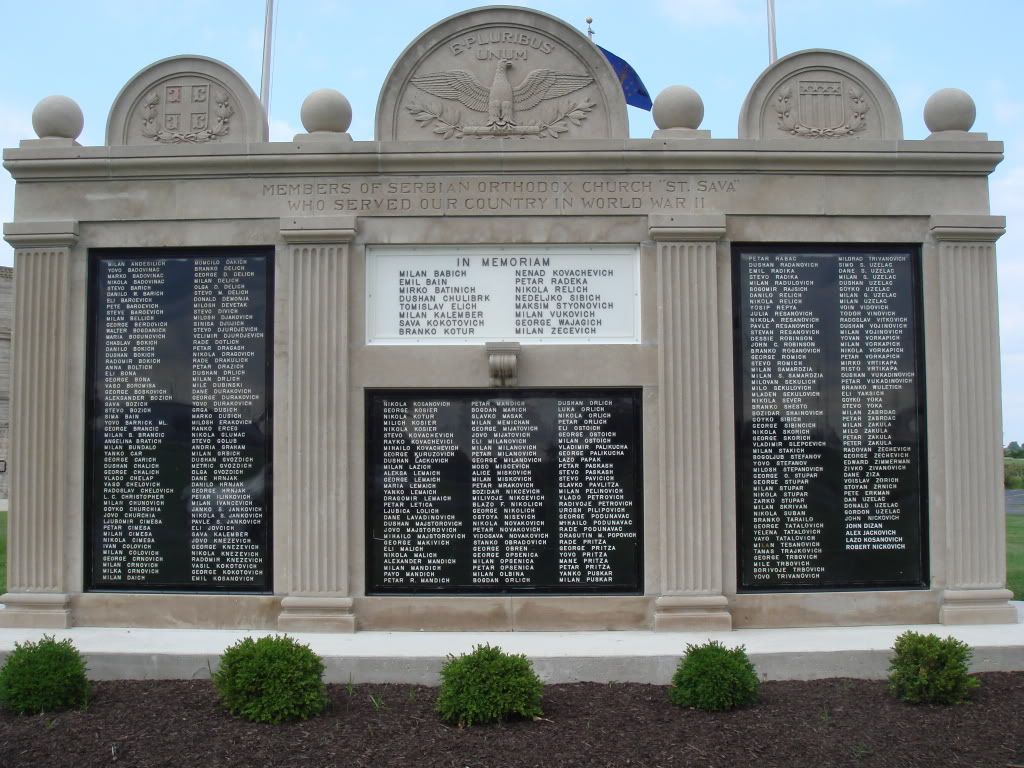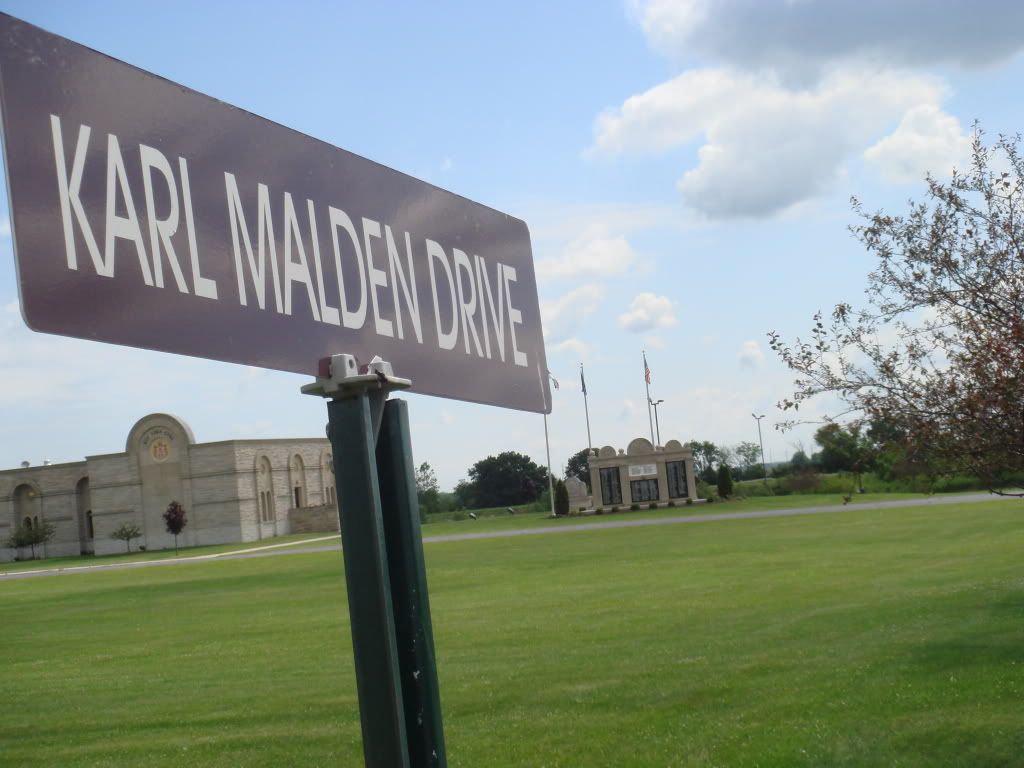 .
posted by dorothyp on Jul 1st, 2009 at 2:07 pm

The following is a list of almost 300 names of the veterans from the WWII Memorial Monument. (Click below on CONTINUES...) The Serbian Historical Society is asking for your help in obtaining copies of their individual military photos or any that you can provide. Please send a 5 X 7 copy to the church office, 9191 Mississippi St., Merrillville, IN 46410. Be sure to include the name, branch of service, rank, any information about his/her service, and your own name and contac...
(continues ...)
.
posted by dorothyp on Apr 24th, 2009 at 10:03 pm

In 1947, a large Memorial Monument was erected and dedicated to honor those young Serbian men from St. Sava Church, who bravely fought in the Second World War. Several perished and are listed among approximately 200 church members who proudly served in all branches of the U.S. Armed Forces. On our Church's Anniversary, we still pay tribute to them each year at the new Church property in Merrillville. The original Monument has remained at the old Church property at 1300 Connecticut Street since it survived the fire in the late 70's.
Recently, Nicky Joe Sever has taken on the task to dis-assemble, secure and move the Monument. It is a difficult project, but he is skilled, determined, and passionate about fulfilling the dream of many Church members. His father's name is among those listed on the original plaques that have been in storage. The process of storing, transporting, and re-building the structure will take weeks, but we all look forward to an emotional day when we can re-dedicate this beautiful tribute to a previous generation of heroes. The Monument will be placed in the area around the flag poles, and it will be visible for passing traffic to appreciate. The Serbian Historical Society would like for anyone who has a relative listed on the Monument to please provide a copy of a photograph in uniform (5 X 7) for historical preservation. Please provide details such as dates, branch, rank, etc. if possible. A complete list of servicemen will be on display on the south and north wing bulletin boards.
Special Thanks to Greg Traicoff for providing a crane, truck, and other equipment at no charge. Others pictured are Chris Traicoff, Eric Seville, Nick Sever, and Christopher Stevens, and Fred. And to Nick Sever, heartfelt Thanks and appreciation for your hard work and the respect you've shown for St. Sava's servicemen.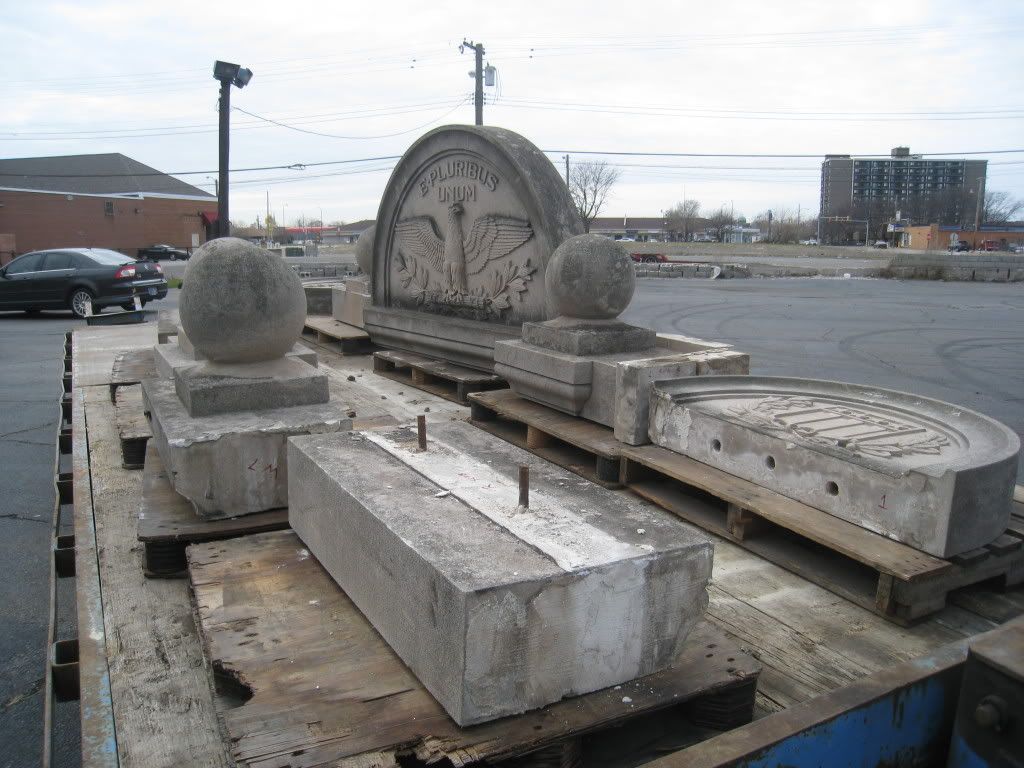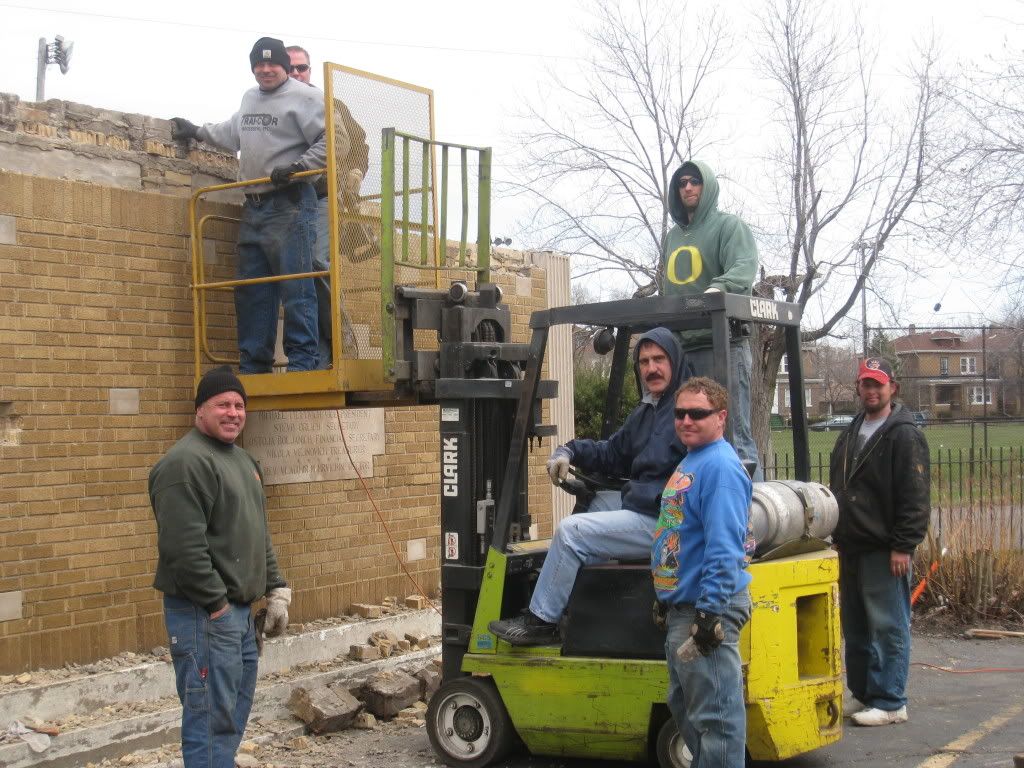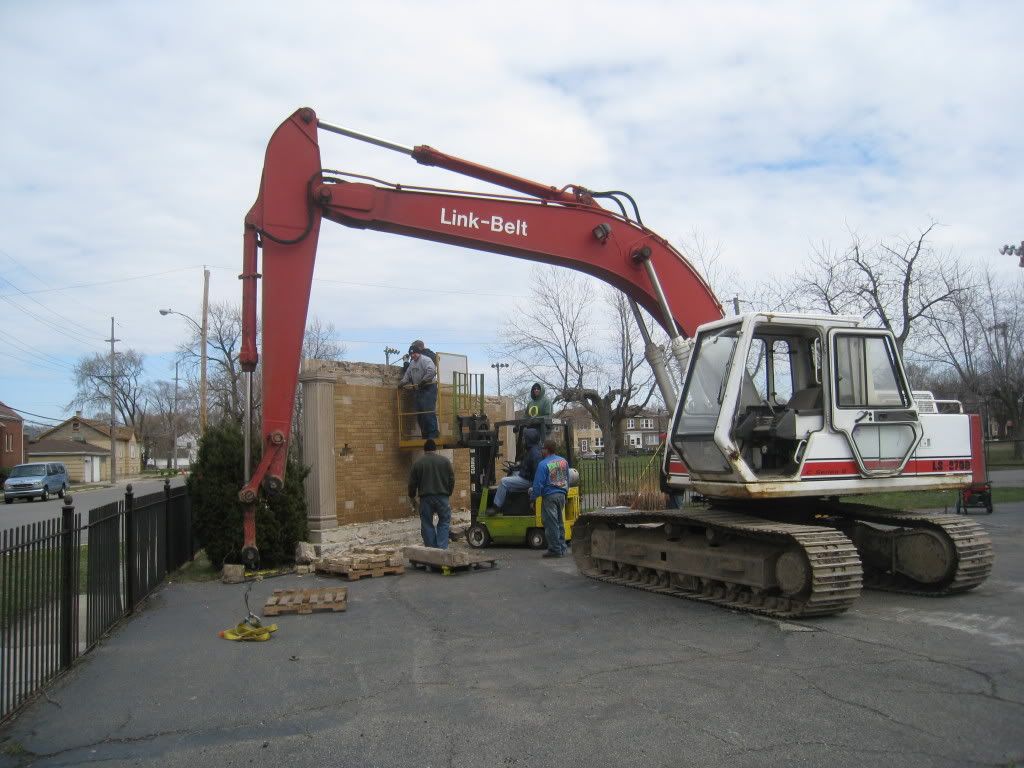 .
Displaying Blog Posts 1 - 4 of 4