St. Sava Serbian Orthodox Church
Serbian Orthodox Church, Merrillville, IN, was established in 1914 in Gary, IN. Divine Liturgy Sundays 10am, Fr. Marko Matic officiating. Liturgical responses by Karageorge Choir. Sunday School starts after Holy Communion (around 11:15) until 12:15. Serbian School will be incorporated into Sunday School. Vespers served Tuesdays and Saturdays at 6:00 p.m. Join us, everyone welcome! Folklore dance group and choir always accepting new members. Attend Sunday Luncheons after Liturgy, hosted by families or organizations, serving delicious homemade food and desserts.
South Wing SOCIAL CENTER NOW AVAILABLE for hosting social events, newly renovated and tastefully decorated. Showers, graduation parties, business meetings, Skup Svatova, wedding receptions, baptisms, birthdays, and retirements can all be accommodated. For more info, call (219)736-9191.

phone (219)736-9191
9191 Mississippi St.
Merrillville, IN 46410
Monday-Friday: 9:00 am - 3:00 pm
Saturday: closed
Sunday: 9:30 am - 12:30 pm
posted by dorothyp on Dec 14th, 2012 at 4:27 pm

Srbadija Folklore Group of St. Sava Church had the pleasure of hosting Talija International Folk Ensemble from Serbia this past October 20th. Folklore president Borka Grimsgard seized the opportunity to host the evening performance after Talija's afternoon show for Lifeline Chicago at The Murphy. Colorful costumes and precision dance routines were accompanied by a live orchestra on the stage of Valparaiso's Memorial Opera House. The evening ended with an invitation for audience members to join the dancers on stage for a kolo finale. If you ever have the opportunity to see Talija, you'll be sure to enjoy a memorable evening.
.
posted by dorothyp on Oct 13th, 2012 at 3:46 pm

Please visit www.sight4hopeandfreedom.com
The Brkic triplets now have a website where you can donate for surgical expenses to restore sight for Nada and Slobodan. Their Serbian names Vera, Nada, and Slobodan translate to Faith, Hope, and Freedom. Two of the triplets were born blind as a result of overdose of oxygen in their incubator, by mistake of their doctors. Dr. De Juan will treat them at the University of San Francisco. Our prayers will help as will donations to help with medical and travel expenses.
Please give what you can. So far, the first surgery has been successful. You can use PayPal for credit card donations on the website or mail a check payable to Dragisa Brkic c/o
Rev. Marko Matic
St. Sava Church
9191 Mississippi St.
Merrillville, IN 46410
blog tags:
brkic
,
triplets
,
serbian
,
nada
,
slobodan
,
vera
,
website
,
donations
,
sing
,
blind
,
video
,
dr. de juan
,
usf
,
surgeon
,
serbia
.
posted by dorothyp on May 23rd, 2012 at 9:11 am

Three Illinois Circles of Serbian Sisters hosted an outstanding afternoon of food and entertainment to benefit Lifeline Humanitarian Organization's Chicago Office. As guests arrived, they were treated to a musical performance by "Veselo Selo" Youth Tamburitza Orchestra. Dozens of lavish themed gift baskets were displayed for a lively, competitive auction. Baskets were donated by various businesses, individuals, church organizations, and Kolos. Volunteers served up a great meal that included homemade sarmas and baked chicken. A "Sweet Treat Walk" offered guests a chance to select and pack their own dessert items to enjoy now and later.
The serious and urgent needs of children in Serbian orphanages  were discussed as Kathy Fanslow and Melanie Sever presented videos that also highlighted accomplishments achieved to date. There is much to be done for these innocent children with special needs. Lifeline is working through area churches and Kolo organizations and is eternally grateful for the support received through the years. Special Thanks to the three Illinois Serbian Sisters Circles - St. George, Joliet, St. Archangel Michael, Lansing, and Knjeginja Zorka, Lansing for their hard work and all the guests for their generosity.
Please watch the short videos below and understand the urgency for helping these children of Serbia. Share the videos with friends and family so that they might also help. Donations may be made directly to Lifeline on their website (link at top of page).
Please click on the photos below to enlarge:
blog tags:
lifeline
,
humanitarian
,
organization
,
chicago
,
serbia
,
children
,
benefit
,
joliet
,
veselo selo
,
lansing
,
kolo
,
sunday
,
may 20
,
fund raiser
,
videos
,
photos
.
posted by dorothyp on Jun 20th, 2011 at 11:14 pm

The "Niska Banja" craze is spreading to schools across the U.S. The song has been performed at several public schools, all recorded on YouTube. After receiving a last-minute invitation, several girls from St. Sava's Srbadija Senior Folklore Group volunteered to perform a casual interpretation of the gypsy dance "Niska Banja" with the 7th and 8th grade choir. Thomas Jefferson Middle School Choirs held their spring concert at Valparaiso High School's Auditorium on May 25th. A variety of songs were presented, including a medley from Fiddler on the Roof and several Beatles hits. Choir director Lynda Galbiati surely was proud of all who participated. The concert was delightful and showed all the hard work involved in preparation.
"Niska Banja" dancers were Sarah Jackovich, Jelena Djurdjevich, Sofia Grimsgard, Camille Sisk, Gorana Bilbija, Mia Vasiljevich, and Caitlyn Baroevich. Dusan Simic was percussionist, and students Dimitrije Simic and Andrew Flasch played piano quite well!
blog tags:
niska banja
,
serbia
,
song
,
dance
,
gypsy
,
lynda galbiati
,
valparaiso
,
concert
,
video
,
photos
,
choir
,
7th and 8th grade
,
wednesday
,
may 25
,
high school
.
posted by dorothyp on Jan 17th, 2011 at 8:16 pm

Entire proceeds from this Sunday's Luncheon Buffet will benefit the victims of the November 3rd earthquake in Serbia. Please try to support this effort in any way you can  by attending and donating for the relief efforts. St. Sava's Executive Board is hosting this event. (Ladies, salads and desserts would be much appreciated).
.
posted by dorothyp on Mar 23rd, 2010 at 10:51 pm

Art Jibilian shown in his Navy uniform in 1942 died Sunday after battling leukemia. Jibilian, 86, was affectionately called "Jibby".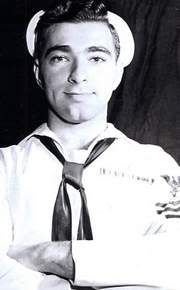 Jibilian, a radio operator, was nominated for the military's highest honor for his actions during five months in 1944, helping to rescue hundreds of people from a German-occupied area in Serbia.
Jibilian was one of three Office of Strategic Services agents who parachuted into central Serbia in August 1944 to rescue what he thought was 50 downed airmen.
"We didn't find 50," Jibilian would later say. "We found 250."
Over the next six months, Jibilian constructed a landing strip and coordinated evacuation flights and medical help at night as the people in the Serbian village housed and protected the soldiers under the leadership of Drazha Mihailovich -- leader of the Royal Yugoslav Army.
His daughter, Debi Jibilian, said the family plans an event Saturday in Fremont, though funeral plans have not been set.
"It's going to be a celebration of his life," Debi Jibilian said. "This is his home, and this is where it'll be."
Debi said her father lived for 18 months after doctors said he had two weeks left.
Instead of battling for his life, he fought to clear the name of a man who helped save him and his fellow colleagues in the mission -- Drazha Mihailovich. Jibilian revisited Serbia on several occasions, speaking to crowds and praising Mihailovich, who had been labeled as a "collaborator" with Nazis and was executed.
The mission was documented in Gregory A. Freeman's 2007 book, "The Forgotten 500."
"With the passing of Arthur Jibilian, our country has lost a true American hero," Freeman wrote in a statement to The News-Messenger. "Arthur's brave work in rescuing downed American airmen in World War II must never be forgotten, and I am honored to have known him.
"He was the quintessential American hero -- humble, modest, quietly proud, but ferocious in seeking justice."
Jibilian was set to received the Golden Deeds Award on April 17 from the Exchange Club of Fremont.
He received a congressional honor for his duty in 2008 from U.S. Rep. Bob Latta. Latta on Monday gave a speech on the floor of Congress to honor Jibilian.
"They have yet to receive a military/government recognition for their actions," Latta said. "I will continue to work on this legislation to honor this exceptional American with the recognition he deserves."
Freeman said "The Forgotten 500" has been optioned for a motion picture by Dana Maksimovich, who co-produced Oscar winner "Crash" and "In the Valley of Elah."
"We're excited about the prospects of seeing 'The Forgotten 500,' on the big screen," Freeman said.
Jibilian also was a strong supporter of making a major film about the WWII story.
****From "The News-Messenger" of Freemont, Ohio. Thanks to Nadine Djordjevic and Mileva Savich for sharing this article.
.
posted by dorothyp on Nov 19th, 2009 at 1:41 am

His Holiness passed away Sunday morning.  May he rest in peace and His memory be eternal.
The Northwest Indiana regional memorial service for Patriarch Pavle will be held tomorrow Thursday at 7:00 p.m. at St. George, 905 Joliet Road in Schererville.  Father Marko is encouraging all parishioners to attend this memorial service.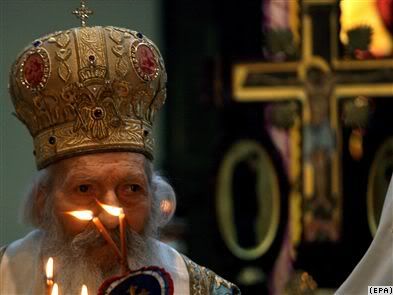 Special Thanks to Mara Cucuz from Florida for sending us the link to this video.
.
posted by dorothyp on Apr 19th, 2008 at 9:55 pm

Prentice Women's Hospital in Chicago is part of Northwestern Memorial Hospitals. Construction of the new Prentice Hospital was completed in October 2007. The brand new facility was provided with the latest technology and equipment. As a result of their generosity, Prentice donated 373 pieces of much needed medical supplies and clinical equipment to six hospitals in Serbia. The estimated value of these goods is $1.5 million. This monumental task was arranged by Lifeline Humanitarian Organization, founded by Crown Princess Katherine of Serbia.
St. Sava in Milwaukee and Lifeline will be assisting in transporting donated computers worth $10,000 (specially configured for the blind) for the Brkic triplets in Serbia. You can view the Brkic triplets singing in our Videos section. Lifeline raises funds for the transporting of food and goods to aid people in Serbia.
If you would like to receive the Lifeline Newsletter by email, please contact them at Lifelinel@pkfond.org
.
posted by dorothyp on Apr 4th, 2008 at 2:10 am

San Francisco based Global Fund for Women has worked in partnership with women who are struggling to rebuild their lives in Serbia after recent conflicts. This nonprofit grant-making foundation raises funds for women-led organizations that promote economic independence, health, safety, education, and leadership of women and girls. Understanding the social, political, and economic conditions in which these women live is a critical component of their mission.
In 2006 alone, over $170,000 was donated to the following organizations:
Autonomous Women's Center-Belgrade $16,000, Centar Za Devojke - Nis $30,000, Reconstruction Women's Fund - Belgrade $50,000, Women in Action - Velika Plana $10,000, Women's Center for Democracy and Human Rights - Subotica $5,200, and $34,000 to various Novi Sad and Belgrade organizations. Also receiving contributions in Montenegro were: Montenegrin Women's Lobby - Podgorica $20,000 and Women's Safe House - Podgorica $5,000. You can help by supporting this fund; every contributing donor, regardless of amount, is listed on their website in their Annual Report. Among those on the Board of Directors is Laurene Jobs (the wife of Steve Jobs from Apple Computers).
The 2007 Annual Report listed the following contributions:
Belgrade Women's Studies and Gender Research Center - Belgrade $40,000, BIBIJA Roma Women's Center - Belgrade $20,000, Glas Razlike - Belgrade $7,150, Impuls - Tutin $8,000, Iz Kruga - Belgrade $20,000, Pescanik - Krusevac $6,000, Reconstruction Fund - Belgrade $65,5000, Roma Women's Group Strong Women - Kragujevac $10,000, SOS Vlasotince - Vlasotince, $8,000, Women's Studies and Research - Novi Sad $17,000, ZAR Kikinda (Women's Alternative Workshop) - Kikinda $18,000, totaling $219,650.
.
posted by dorothyp on Mar 21st, 2008 at 10:38 am

Eleven families, including 38 children, have been living at the Grocka Refugee Camp in Belgrade for up to ten years with no way out. The recent shipment of blankets, clothing, essentials, and toys arrived directly to the hands of these very appreciative families, as you can see below. Through the efforts of HRH Princess Katherine's LIFELINE Charity, the need for emergency medical and humanitarian aid has been brought to the attention of many, and should be addressed because our people are suffering the aftermaths of war. We would like to share with you the LIFELINE NEWSLETTER. Please read it and understand that all our help is needed to relieve the suffering in our homeland.
Many Thanks to these contributors for their donated goods: Duneland Resale, Barbara Skala, Xenia Jancarich, Kathy Friedlander, Radmila Milivojevich, Stanja Djinovic, Beba Rudman, Violet Sekulich, Donna Simpson, Deena Galich, Kathleen Baroevich, Gordana Gerbick, Dorothy Paunovich, Sonja Mancich, Manda Andrejich Ellesin, Donna Nickolich, Millicent Orlich, Ljubica Rokosz, Melanie Sever, Djuka Balac, Ruth Ann Bjelopetrovich, and Michelle Langerfeld.
(Click photo to enlarge)
.
posted by dorothyp on Oct 19th, 2007 at 11:44 am

On Sunday, October 7th, the Kolo Sisters of St. George, Schererville prepared a wonderful meal for all those who attended the 15th Annual "Serbian Mothers Against Hunger" Humanitarian Banquet. This annual event is the result of cooperative efforts of the 4 Kolos of St. George-East Chicago, St. Sava-Merrillville, St. George-Schererville, and St. Elijah-Merrillville, as they take turns hosting this well-attended banquet. Anka Ozegovic made the introductions and closing remarks.
Suzana Nikitovic shared her own experiences in Serbia, a moving, heart-felt account of the needs, both medical and financial, that are still unaddressed in the region. She is affiliated with
CardioStart,
Chicago Chapter and has passionately drawn attention to the needs of Serbian children and adults. Her commitment is so great that she is even considering moving her family to Serbia.
`
Reports of personal distribution of last year's fund were given by Very Rev. Fr. Dragoljub Popovich of St. George Church, Schererville as well as details about the appreciation of those who received much needed support. Fr. Marko Matic spoke in behalf of Very Rev. Fr. Jovan Todorovich, now retired and living in Florida. Both Reverends and their Popadijas made the trip to orphanages, shelters, hospitals, refugee camps, churches, and homes for the elderly. Beside the financial support they offered, most importantly, people were reassured of the caring hearts in this country. 100% of your donations are given directly to those in need, and the expenses are shared by the 4 Kolos.
Scherville Church President Michael Muskin made remarks as well as His Eminence Metropolitan Christopher, noting the importance of true Orthodox Charity. He ended the banquet with Closing Prayers.
````````````````````````````````````````
If you were unable to attend, you may still send a donation to Mrs. Milena Popovich, 905 E. Joliet St., Scherville, Indiana 46375, checks payable to: Serbian Mothers Against Hunger. Please support this charitable cause in the spirit presented by our hard-working Kolo Sisters. (click photo to enlarge)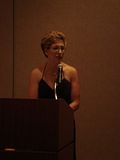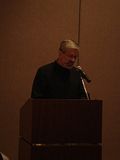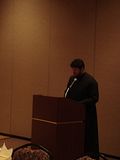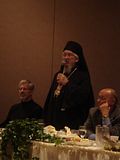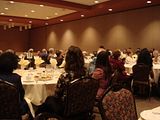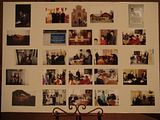 .
Displaying Blog Posts 1 - 11 of 11