St. Sava Serbian Orthodox Church
Serbian Orthodox Church, Merrillville, IN, was established in 1914 in Gary, IN. Divine Liturgy Sundays 10am, Fr. Marko Matic officiating. Liturgical responses by Karageorge Choir. Sunday School starts after Holy Communion (around 11:15) until 12:15. Serbian School will be incorporated into Sunday School. Vespers served Tuesdays and Saturdays at 6:00 p.m. Join us, everyone welcome! Folklore dance group and choir always accepting new members. Attend Sunday Luncheons after Liturgy, hosted by families or organizations, serving delicious homemade food and desserts.
South Wing SOCIAL CENTER NOW AVAILABLE for hosting social events, newly renovated and tastefully decorated. Showers, graduation parties, business meetings, Skup Svatova, wedding receptions, baptisms, birthdays, and retirements can all be accommodated. For more info, call (219)736-9191.

phone (219)736-9191
9191 Mississippi St.
Merrillville, IN 46410
Monday-Friday: 9:00 am - 3:00 pm
Saturday: closed
Sunday: 9:30 am - 12:30 pm
posted by dorothyp on Nov 19th, 2009 at 1:41 am

His Holiness passed away Sunday morning.  May he rest in peace and His memory be eternal.
The Northwest Indiana regional memorial service for Patriarch Pavle will be held tomorrow Thursday at 7:00 p.m. at St. George, 905 Joliet Road in Schererville.  Father Marko is encouraging all parishioners to attend this memorial service.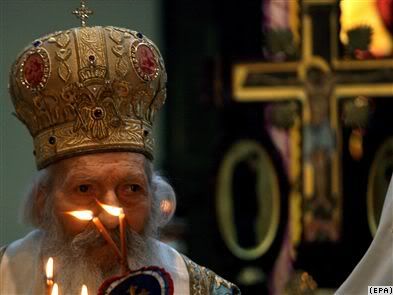 Special Thanks to Mara Cucuz from Florida for sending us the link to this video.
.
Displaying Blog Posts 1 - 1 of 1