St. Sava Serbian Orthodox Church
Serbian Orthodox Church, Merrillville, IN, was established in 1914 in Gary, IN. Divine Liturgy Sundays 10am, Fr. Marko Matic officiating. Liturgical responses by Karageorge Choir. Sunday School starts after Holy Communion (around 11:15) until 12:15. Serbian School will be incorporated into Sunday School. Vespers served Tuesdays and Saturdays at 6:00 p.m. Join us, everyone welcome! Folklore dance group and choir always accepting new members. Attend Sunday Luncheons after Liturgy, hosted by families or organizations, serving delicious homemade food and desserts.
South Wing SOCIAL CENTER NOW AVAILABLE for hosting social events, newly renovated and tastefully decorated. Showers, graduation parties, business meetings, Skup Svatova, wedding receptions, baptisms, birthdays, and retirements can all be accommodated. For more info, call (219)736-9191.

phone (219)736-9191
9191 Mississippi St.
Merrillville, IN 46410
Monday-Friday: 9:00 am - 3:00 pm
Saturday: closed
Sunday: 9:30 am - 12:30 pm
posted by dorothyp on May 1st, 2009 at 1:10 am

These recipes are from our Serbian Sisters Circle Cook Book, available for purchase in Goods & Services or at the Church entrance display.
SLAVSKI KOLAC (Slava Bread)
4 1/2 Cups flour
1 Teaspoon salt
2 Pkg. dry yeast
1 1/2 Cups lukewarm water
1/2 Lb. butter
3 Large or 4 small eggs
Peel and juice of 1 lemon
4 Tablespoons sugar
Dissolve yeast in 1/2 cup lukewarm water, 1 teaspoon sugar and 3 teaspoons flour; let it rise. Mix all ingredients together as you would for a bread. Let it rise until it doubles in size. Knead once again. Save some of your dough for top decorations. Put bread in pan, remembering a smaller one will make a higher bread. Decorations are usually a cross, 4 C's and a braid around the edge. Pan used should be greased and floured. Bake at 350 degrees for 1 hour.
KOLJIVO
(Recipe by Milica Milojevich)
1 Lb. ground walnuts
1 Lb. sugar or powdered sugar
1 Lb. wheat
1 Teaspoon vanilla, or rum, or almond extract
1 Teaspoon cinnamon
Clean wheat and wash thoroughly. Put wheat into pan in which you are going to cook it. Then add hot water, not boiled, and let stand for 1 hour. Wash it well in lukewarm water 2 times. Put on to cook in 4 quarts of hot water; add a little salt. Cook until tender; do not overcook. When wheat is done, strain in lukewarm water 2 times. Put into strainer and wash again. Then let it stay overnight in a strainer. Put it where it will drain.
When you want to mix the wheat, put in pan or bowl where you could mix the best. Mix it thoroughly, put in wheat, nuts, sugar, flavor you want, and cinnamon. Sugar may be added if desired. When all mixed, put in glass bowl; shape it up. Put ground walnuts on top of wheat; leave some nuts on a side from top, make a cross in the center with cubed sugar, decorate around the cross with raisins, and around the side of the bowl.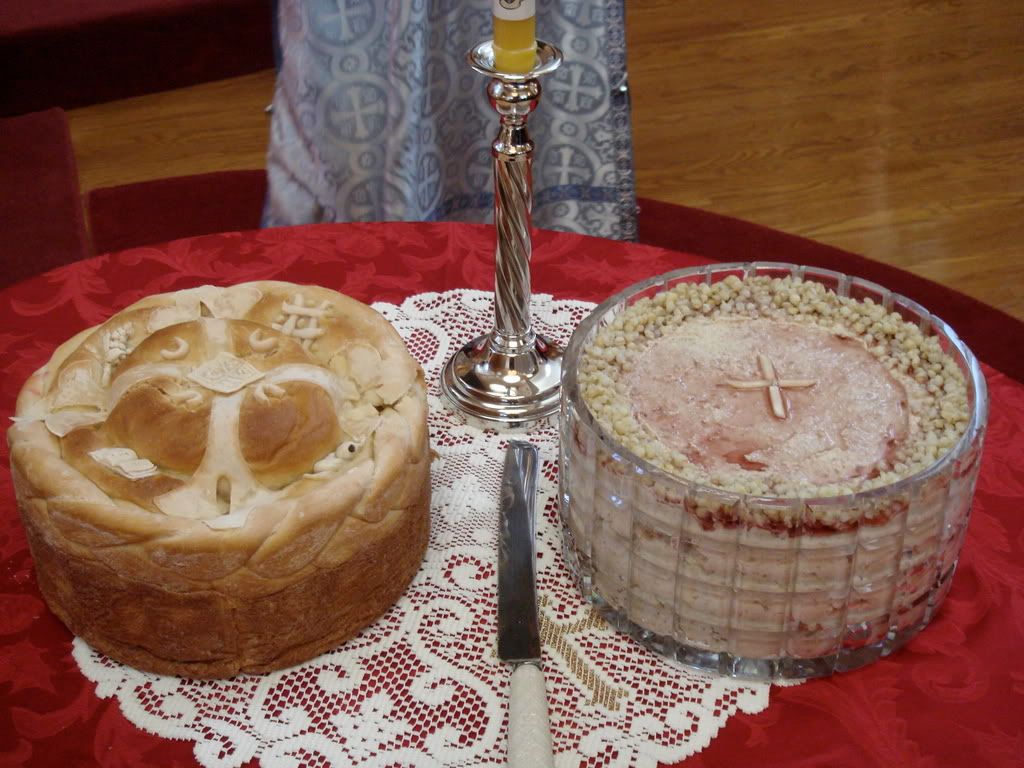 .
posted by dorothyp on Apr 27th, 2009 at 12:21 am

Recent Press Release from Lifeline Humanitarian Organization:
The Public Relations Office
of HRH Crown Prince Alexander II
PRINCESS KATHERINE FOUNDATION AND KOLO SISTERS FROM UNITED STATES DONATION KOSOVO AND METOHIJA
Belgrade, 23 February 2009 - HRH Crown Princess Katherine Foundation made a donation consisting of 3.5 tons of food to Rasko Prizrenska Diocese, to be used in a soup kitchen in the village Prekovac, Municipality Novo Brdo, in Kosovo and Metohija.
This donation from Kolo sisters – "Mothers against hunger" organization from the United States will support the operation of a soup kitchen that serves 400 people on a daily basis, out of which there are 90 children and 200 elderly people over sixty. The donation also consists of 200 winter boots for children.
This humanitarian operation was organized in cooperation with Lifeline Humanitarian Organization in Chicago, whose patron is HRH Crown Princess Katherine.
.
posted by dorothyp on Feb 29th, 2008 at 5:35 pm

Our wonderful Serbian Sisters will prepare the first Sunday Luncheon in the newly remodeled south wing after Divine Liturgy this Sunday. There are many dates still available, so please call Snezana to reserve a date soon at 736-9191. You can buddy-up with a group of families, or your organization can host a luncheon. This fun gathering was very well attended in the past, and a great fund-raiser for the church and its organizations. Everyone is welcome to participate.
.
posted by dorothyp on Dec 2nd, 2007 at 6:17 pm

A 324 page collection of your favorite recipes for Serbian and internationally inspired meals and desserts, offered by our Sisters Circle. Many lenten recipes are included. You can stop by the Church office from 9a.m. til 3p.m. or buy it online in our Goods & Services section using your credit card ($5 shipping and handling). This cook book will also be for sale in the display case at the entrance of the Church. Combine it with an apron that Karageorge choir is offering, and you'll have the perfect  gift for any occasion.  Free gift wrapping!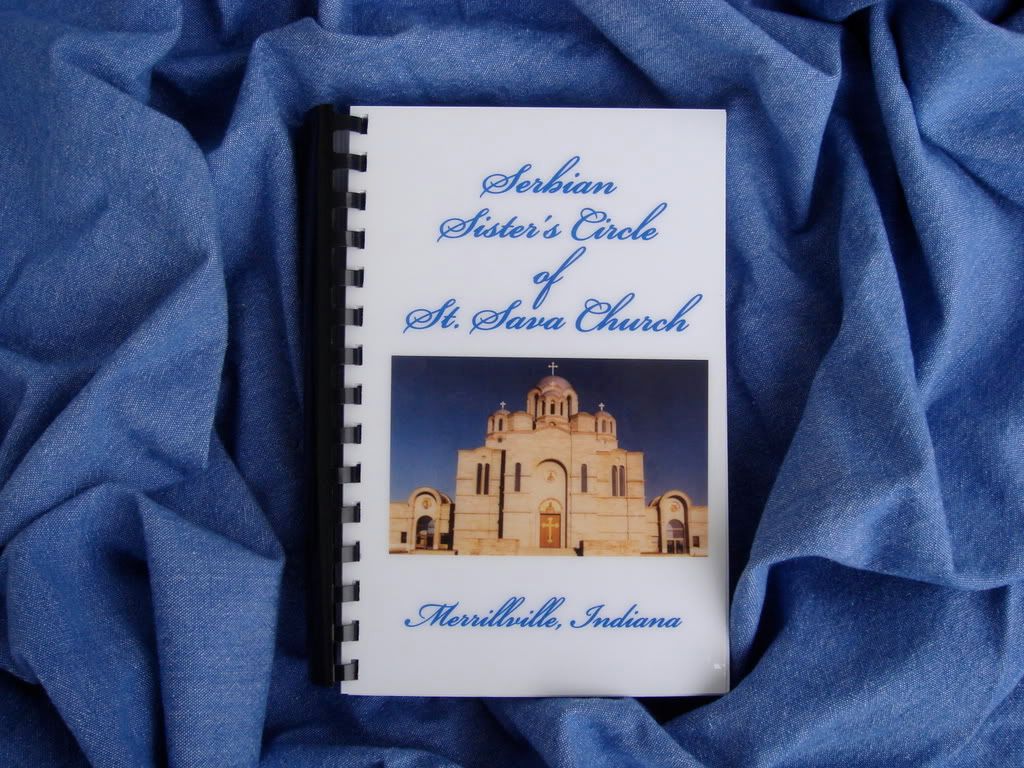 .
posted by dorothyp on Nov 4th, 2007 at 7:12 pm

Divine Liturgy was celebrated Saturday, October 27th on a beautiful sunny day. As is the tradition for many years, Fr. Marko held a memorial service for all the deceased Sisters of the Kolo, from several generations previous. The first names were read respectfully, and reminded us of how many have already passed. This has become a very emotional and intimate service, when we reflect on the memories of the special, dedicated women of our church. Our Mothers, Babas, Tetas, and Kumas worked long, hard hours for the benefit of this church. May their memories be eternal!
Mike and Ruth Ann Bjelopetrovich were Kumovi for the Slava. We were honored by a visit from Nick Chabraja, who also participated in the Blessing of the kolach and zito. A tasty luncheon buffet was prepared by the Kolo Sisters, and the dessert table was endless. The south wing of the church was beautifully decorated. Father closed the Slava with Prayer and thanked all those who attended. (Click on photo to enlarge)
.
Displaying Blog Posts 1 - 5 of 5