St. George Serbian Orthodox Church
WELCOME to our St. George Serbian Orthodox Church in Schererville, Indiana. Our parish and church-school organization was founded in 1911, in East Chicago, Indiana. In 1980, our dedicated members and parishioners erected a new magnificent church in Schererville, IN. Our parish priest is the V. Rev. Dobrivoje V. Milunovic. The interior of the church is beautified by the Serbo-Byzantine style frescoes painted by Mr. Miloje Milinkovic.
Divine Liturgy begins at 10:00 a.m. every Sunday. Weekday services on feast days begin at 9:00 a.m. Vespers on Saturdays start at 6:00 p.m. Church School begins every Sunday following Holy Communion. You and your family are more than welcome to join us!!! We have a wonderful Bishop Stefan Lastavica Choir, Circle of Serbian Sisters, Church School, Serb National Federation Lodge #171, Chetniks, Tromedja folklore organizations, and our Halls of St. George which is the most spectacular banquet facility in the Northwest Indiana area.

phone (219)322-3355 fax (219)865-9415
905 E. Joliet St.
Schererville, IN 46375
Monday-Tuesday: 9:00 am - 2:00 pm
Wednesday: closed
Thursday-Friday: 9:00 am - 2:00 pm
Saturday: closed
Sunday: 10:00 am - 12:00 pm
posted by stgeorge on Jan 21st, 2013 at 7:11 am

All of our St. George families are cordially invited to our
St. George Serbian Orthodox Church School Krsna Slava
& St. Sava Celebration
Sunday, January 27, 2013
Divine Liturgy ~ 10:00 a.m.
Cutting of the Slavski Kolac & Slava Luncheon ~ 12:30 p.m.
Church School St. Sava Program immediately following lunch
Kum Slave: Marko Milunovic
Kuma Slave: Anja Stanic
DOBRO DOSLI, MILI GOSTI!
.
posted by stgeorge on Dec 14th, 2012 at 11:19 pm

.
posted by stgeorge on Dec 2nd, 2012 at 9:07 am

On Saturday, December 1, 2012 our St. George Serbian Orthodox Church School held its annual Advent Workshop.  Our children BEAUTIFULLY sang the entire Divine Liturgy under the direction of Tijana Samardzija.  This was truly a blessed Liturgy to partake in and to hear our little St. George voices in our church.  The church school children received holy Confession and Communion together.  As all can see, our children are learning and participating!  After Liturgy, Prota Dobrivoje held an altar boy workshop explaining how important their participation is during the Divine Liturgy.  Throughout the afternoon children enjoyed a lenten lunch, religious classes, children's choir Christmas selections, and Christmas crafts.  Prota Dobrivoje also held a teen religious class.  The Church School would like to give a special thank you to Peter Katic for donating the glass jars for our crafts. The Christmas lent has begun and it is a time of prayer, fasting, almsgiving, confessing of our sins and partaking in the Holy Sacrament of Communion. HAVE A VERY BLESSED ADVENT!
.
posted by stgeorge on Sep 18th, 2012 at 9:01 pm

On Sunday, September 16th, our St. George Kolo celebrated their Krsna Slava, The Nativity of the Most Holy Mother of God.  It was also the first day of Church School and Folklore.  We had many faithful people and many children attend Divine Liturgy. Thank you to Bosiljka Raic, who brings a fresh vase of flowers for the altar table every Sunday. Prota Dobrivoje served in beautiful new red vestments that were donated in memory of kolo sister Dorothy Kovan.  Prota Dobrivoje led the children in a prayer for the opening of a new Church School year and sprinkled them with holy water and dismissed them for religious classes.  A memorial service was held to remember departed Kolo Sisters. Following Liturgy, everyone gathered in our church hall for the blessing of the slava kolac and enjoyed the slava luncheon. This year's kuma for the kolo slava was Sava Trivunovic who greeted all the guests together with her son Dragan Trivunovic.  Tijana Samardzija was the Mistress of Ceremonies for the slava program.  Prota Dobrivoje, our kolo president, Mara Dobrijevich, our Church Board President, Ray Vukas all greeted guests and thanked them for coming to celebrate with the kolo. They also thanked the kolo for their continued dedication.  We would like to thank the parents for bringing their children to Church School!  A new season of folklore also started and we have a nice group of children who will be dancing this year.  Livija Kesic brought her American Girl doll with a Narodna Nosnja made to fit!  Cute!  We had a full day here at St. George last Sunday!  Ziveli!
.
posted by stgeorge on Sep 14th, 2012 at 9:53 pm

.
posted by stgeorge on Aug 23rd, 2012 at 4:17 pm

Dear Parents & Children,
Our St. George children gave a spectacular performance last October for our parish's 100th Anniversary!  The only video that exists of this performance was captured on Major Philip Mundweil's (son in law of Milorad & Tijana Samardzija) cell phone.  Please enjoy this video and let it remind everyone that another Church School year is approaching!  PLEASE BRING YOUR CHILDREN!  We cordially invite ALL of the children of this parish to partake in the St. George Church School program.
.
posted by stgeorge on Jul 31st, 2012 at 12:48 pm

.
posted by stgeorge on Jun 29th, 2012 at 10:41 am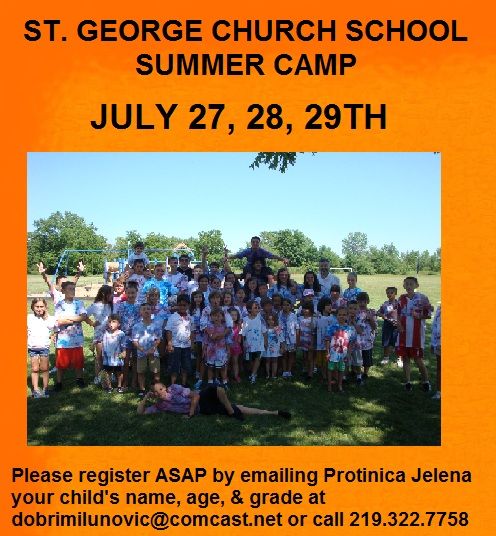 .
posted by stgeorge on May 4th, 2012 at 10:38 am

.
posted by stgeorge on Mar 30th, 2012 at 9:33 pm

Last Sunday, we celebrated St. John of the Ladder on the 4th Sunday of the Great Lent. Our Church School children have been encouraged to be on this lenten journey together and regularly as we have talked about the special meaning of each week and taken home a special project to remind us of what we have learned.
St. John of the Ladder was one of the holiest men of our Church. He gives us words of wisdom on how to live the right way and how to fight evil temptations. His spiritual exericise called "The Ladder of Divine Ascent" gives direction to make the right choices and each right direction is like rising on a step ladder towards the Kingdom of Heaven.
The children made magnets with the icon of Christ, and every time they look at this icon it will remind them that they need to do the right choices to be closer to God such as go to church regularly, say my prayers daily, partake in Holy Communion, fast, be kind, help others in need, etc.
.
posted by stgeorge on Mar 13th, 2012 at 9:13 am

Our Church School is on the Great Lent journey together, and we are trying to encourage our children to attend church regularly and have a special project for them during religious classes so they will understand the importance of the Great Lent. Last Sunday, we celebrated St. Gregory Palamas, a very saintly man, who dedicated his life to Christ. St. Gregory taught us that through prayer and fasting we could participate in the light and life of God's Kingdom, even in this world! Our children enjoyed making their own Prayer Books to take home and read the prayers daily in front of the icon they made on the Sunday of Orthodoxy. PLEASE BRING YOUR CHILDREN TO CHURCH NEXT WEEK, AS WE WILL BE CELEBRATING THE VENERATION OF THE HOLY CROSS!
.
Displaying Blog Posts 1 - 11 of 11