Butter Slick
Butter Slick "Custom - Smooth Cream" car wax eliminates old wax and swirl marks as well as light scratches. Product line includes: Butter Slick Car Glaze Cream Wax, Butter Slick Platinum Spray & Shine Wax, Butter Slick Car Cologne, Butter Slick Motorcycle Glaze Wax, Butter Slick Shark Oil Tire Dressing, Butter Slick Platinum Spray & Shine Motorcycle Wax. Local Owned Business in Gary, Northwest Indiana. Stop in and pick up your Butter Slick Wax or Call us at (219) 886-9500 / 1-877-832-6528. Order 24 Hrs. A Day 7 Days a Week, Click on Website to order.
phone (219)886-9500
835 West 5th. Ave.
Gary, IN 46402
Monday-Saturday: 8:00 am - 5:00 pm
Sunday: closed
posted by butterslick on Aug 5th, 2008 at 10:34 am

A lotion cleaner and glaze for removing light to moderate oxidation and scratches from basecoat / clearcoat finishes, while providing long lasting protection and shine. Fine Abrasives - Contains silicone - Pink Cream wax. Minimizes risk of burning or scratching finish because it contains fine abrasives. Easy on, easy off application because of a special blend of polymer lubricants.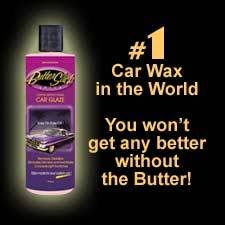 .
posted by butterslick on Jul 28th, 2008 at 11:14 pm

Butter Slick leaves a high gloss finish , the best I've ever used. The vehicle shown below is a 1999 Chevy Suburban. Mike, who owns this vehicle had a snow plow on it for the first 5 years where he plowed his business (Shell Station) lot. This vehicle has been through a automatic tunnel car wash at least 500 times. Mike sold his business over 4 years ago and had his snow plow taken off his vehicle. Mike noticed that the paint on his vehicle was starting to fade. He would try different high quality wax's, but after a couple of washes the fade look would come back. Mike got a hold of a bottle of Butter Slick and applied it on his vehicle. He noticed the color started coming back, he applied a second coat, he could not believe what he was seeing. Mike has been using Butter Slick now for over 3 years. Thank You Butter Slick for making my vehicle look like this.
.
posted by butterslick on Jul 26th, 2008 at 12:53 pm

If you have not tried Butter Slick Wax yet, don't wait any longer. Once You use it, You won't go back to the product that you were using before. Butter Slick is easy to put on and easy to take off. We are located at 835 W. 5th. Ave., GARY, IN. Stop by and pick up Your Butter Slick Wax, or call us at (219) 886-9500 / 1-877-832-6528 to have your order shipped. Call For Wholesale Info. Click for online orders.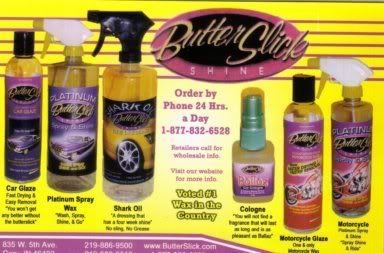 .
Displaying Blog Posts 1 - 3 of 3